Sports Performance Membership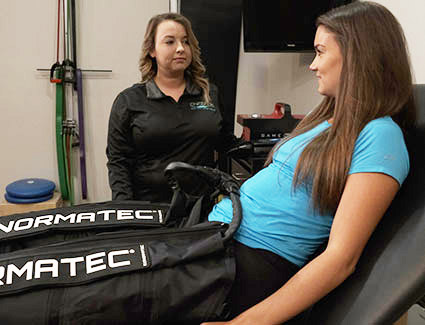 Whether you're a runner, triathlete, CrossFitter or weekend warrior, you want to stay in peak physical condition. Perhaps your athletic goals include increasing your power, speed or agility. Whatever they are, we can help you achieve those goals through our monthly Sports Performance Membership.
With this valuable membership, you can recover quicker, stay in the game and perform at your best!
What You Get
For just $99/month (a 3-month commitment is required) you will get the following:
A sports performance evaluation by a sports chiropractor/physical therapist
During this assessment, we'll look at functional muscle strength, body positioning, body alignment and injury indicators. There are specific tests we can perform to evaluate if you are predisposed to having a knee or ankle injury. Once we detect that we can target the specific test to determine if there is a muscle imbalance.
An individualized prehab program
If we find areas of muscle imbalance or tightness, we can put together a specific prehab program with instructions on what you can do to start working on things to help you prevent injury.
Weekly 30-minute AlterG® sessions
As the new standard of care for physical rehabilitation, the AlterG Anti-Gravity Treadmill is the only unweighting device that uses air pressure to precisely reduce impact and provide support for rehab patients and athletes at all levels.
With AlterG, you get a non-painful, controlled weight-bearing early in the recovery period. According to some studies, an earlier return to activity prevents atrophy of supporting muscles, reduces swelling and improves outcomes. Above all, the AlterG helps patients recover quicker and return to all their daily activities.
You will need to schedule your 30-minute time slot for the AlterG to ensure availability.
Unlimited use of Game Ready® and NormaTec
Game Ready is a recovery system that helps people get back to what matters post-injury or surgery. Game Ready helps to reduce swelling, increase post-op range of motion and reduce patient opioid use.
The NormaTec PULSE Recovery Systems are dynamic compression devices designed for recovery and rehab. All of our systems utilize NormaTec's patented PULSE technology to help athletes recover faster between training sessions and after performance.
Please note that the use of the equipment is only during office hours.
Book Your Free Consult Today
Whether you're looking to increase your power, speed or agility, improve your sports performance, prevent injury or speed up your weekly recovery time, we can help you achieve your goals. Contact us today to schedule a complimentary consult!

Sports Performance Membership | (317) 776-1061