Spinal Decompression
at Midwest Sport and Spine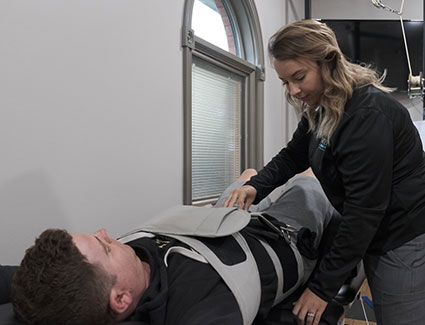 The most important medically advanced non-surgical, non-invasive treatment of back pain in the past 20 years is spinal decompression. In the past, a patient suffering from disc problems was first given pain medications, second instructed to refrain from physical activities, third referred for physical therapy and when they weren't progressing, they were finally sent for spinal surgery. Now, there is another way.
Spinal decompression therapy is a non-surgical treatment option that has been well researched in the medical community. It is utilized by neurologists, orthopedic surgeons, chiropractic physicians, family physicians, pain specialists and physical therapists across the United States, Canada, Europe and Asia.
The Uses for Spinal Decompression
Over 80% of people with herniated, bulging and degenerated discs in the neck and back have experienced remission of their symptoms with spinal decompression. This treatment has been evaluated and approved by the FDA.
Developed in the early 1990s, spinal decompression therapy treatment is a specific application of traction. Decompression traction therapy is a computer monitored traction force to the spine applied while lying on a specially designed table.
The result is a decrease in internal disc pressure that
Enlarges the disc space
May decrease disc bulges or herniations
Strengthens tissues surrounding the disc and spine
Stimulates the healing of cracked and torn discs
Find a Better Way to Heal
Pain medications, hours of rehab and painful surgery are not always the best options. If you would like to experience spinal decompression, contact our team and make an appointment today for spinal decompression Noblesville.
CONTACT US »

Spinal Decompression in Noblesville IN | (317) 776-1061