Athletic Training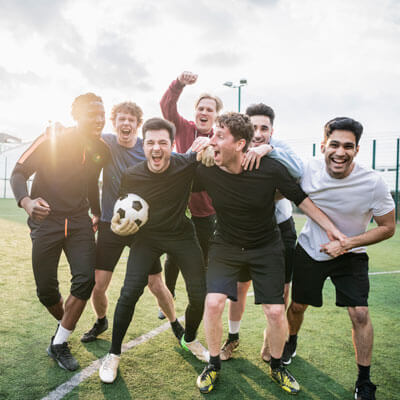 Did you know that Midwest Sport and Spine is home to three certified athletic trainers? In addition to working with athletes in the practice, we're proud to offer our services to local teams and clubs in the Noblesville community who need trainers at their games or events.
What Do Athletic Trainers Do?
Athletic trainers (ATs), help athletes prepare for their games in a number of ways, including taping for injury prevention, stretching or exercises and beyond.
During a game, they're also with you to evaluate any injuries that occur and provide immediate attention. In addition, our athletic trainers work with your doctors to develop an emergency and follow-up care plan to ensure the injury heals properly and doesn't occur again.
An athletic trainer gets to know athletes so they can make suggestions and help them perform to the best of their ability, safely.

Frequently Asked Questions
Can our club hire your trainers for games and events?
We'd love to work with you! Our trainers are available for single games, tournaments and more. Our trainers have experience covering everything from high school to professional athletic events.
What is the cost of hiring a trainer?
This depends on the length of time they're needed at your game or event. We're happy to discuss pricing if you give us a call so we can get a better idea about the scope of your needs.
Can I hire a trainer for an entire season?
Absolutely, we'd love to work with your team for an entire season. This gives the trainer the opportunity to get to know the athletes and their injuries, so they can better provide support and evaluation.
Can athletes visit your practice before a game for taping?
If you make an appointment, you can certainly be taped before a game. Be sure to schedule your visit in advance instead of waiting until just before your event to ensure appointments are available.
Do you offer sponsorships for athletes?
Yes! Reach out to us directly so we can discuss how we can sponsor you-we're thrilled to be able to do this for some local athletic teams.
Learn More Today
We'd love to help you understand our athletic training services-if you have questions, don't hesitate to reach out to us. We look forward to helping your team excel soon!

Athletic Training | (317) 776-1061