Team Doctor & Partnerships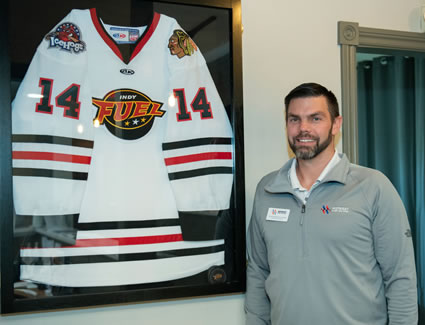 Midwest Sport and Spine is dedicated to caring for athletes in the communities we serve. Whether we're providing care to young athletes competing in travel leagues, high school soccer players, collegiate basketball teams or keeping professional hockey players out on the ice, we have the skills and experience to help players be at their athletic best.
Home of the Only Sports Diplomate in the State of Indiana
Our chiropractor, Dr. Abraham Beaber, has achieved the notable distinction of being the only Diplomate of the American Chiropractic Board of Sports Physicians (DACBSP®) in our state. To achieve this certification, Dr. Beaber attended a minimum of 300 hours of postgraduate education.
Moreover, he completed a minimum of 100 hours providing hands-on treatment to athletes outside the clinical setting. Dr. Beaber joins 300 others nationally who were awarded the Sports Diplomate designation and is the only chiropractor in Indiana to hold this certification.
Proud to Partner With Various Athletic Organizations
Dr. Beaber and our certified athletic trainers offer natural chiropractic care and other healthcare services to athletes of local sports clubs, high schools and universities. We are proud to partner with these outstanding organizations to be the official team chiropractor and athletic trainers for their student athletes.
We are honored to provide services to the following:
Up Your Game
Whether you're a coach or club leader seeking to give your team a competitive edge or an individual athlete looking to improve your game, we want to help. Contact us today to book an appointment for our athletic training services.

Team Doctor & Partnerships | (317) 776-1061