Massage Therapy
at Midwest Sport and Spine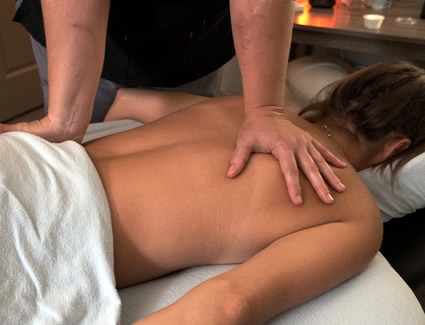 Our state-licensed massage therapist focuses on the normalization of soft tissues affected by stress, injury and illness through manual techniques. These techniques help relieve pain, reduce stress, promote well-being and more!
Enhancing Health and Managing Stress
More Americans are turning to therapeutic massage for relief from injuries and certain chronic and acute conditions. Not only does massage help deal with the stress of daily life, it helps to maintain good health.
Numerous research studies show massage reduces heart rate, lowers blood pressure, increases blood circulation and lymph flow, relaxes muscles, improves range of motion and increases endorphins (enhancing medical treatment). Although therapeutic massage does not increase muscle strength, it can stimulate weak, inactive muscles and partially compensate for the lack of exercise and inactivity resulting from illness or injury.
A Focus on Your Body's Soft Tissues
Massage therapists focus on the normalization of soft tissues affected by stress, injury and illness through manual techniques. AMTA requires minimum training of 500 hours of classroom instruction (at least 300 hours in massage therapy theory and technique, and a minimum of 100 hours of anatomy and physiology). Most states that regulate the profession require 500 or more hours of classroom instruction.
Who Massage Therapy Is Right for
Massage therapy is proven to relieve many of the symptoms of several conditions. These conditions include the following
Arthritis
Asthma
Carpal tunnel syndrome
Chronic and acute pain
Circulatory problems
Gastrointestinal disorders
Headache
Immune function disorders
Insomnia
Myofascial pain
Reduced range of motion
Sports injuries
Stress
Temporomandibular joint (TMJ) dysfunction
Pricing Information
We offer massage therapy treatments in 30-minute, 60-minute and 90-minute sessions.
$59.00 – Intro massage for new patients
$79.00 – 60-minute massage
$225.00 – package of (3) 60-minute massages
$350.00 – package of (5) 60-minute massages
$650.00 – package of (10) 60-minute massages
We also offer monthly massage memberships. The pricing for them is as follows:
60 min massage – $69/month
90 minute massage – $99/month
Please note that there is a 3 month minimum for memberships, payments are automatically charged on the first of the month, and that our standard cancellation policy applies.
Types of Massage We Offer
Our massage therapists are trained in various techniques. Kathy offers prenatal, geriatric, Swedish, deep tissue and sports massage. Jesse offers Swedish, deep tissue, sports massage and myoskeletal alignment therapy.
Prenatal Massage
Prenatal massage can help regulate hormone levels, help blood circulation and reduce swelling. Prenatal massage is a nurturing massage that focuses on the special needs of mothers-to-be during pregnancy. Positioning, pillows and cushions are used to enhance support, decrease pressure and increase relaxation for both body and mind.
Geriatric Massage
Geriatric massage is therapy for people in their older years. This type of massage takes into account the many factors that influence an aging body, including health status, medical conditions and medication use. Geriatric massage is best used for stress reduction, improved mental outlook, pain management, increased blood circulation and better sleep.
Swedish Massage
The "relaxing massage," is its own modality known as Swedish massage, and is best used to relax and offer therapeutic benefits of decreased muscle tension and increased circulation to the areas worked. This modality is designed for patients interested in simply a full body relaxing massage.
Deep Tissue Massage
Deep tissue massage has similar elements of Swedish massage tailored to the patient. The deeper pressure used helps address the deeper layers of fascia and muscle using long deep strokes, with the goal of releasing chronic muscle tension. This modality is often best used to relieve muscle spasm, rehab muscles and increase range of motion for patients with chronic tightness.
Sports Massage
Sports massage is best utilized in pre-and-post activity, practice or competition. Although, it can help with recovery between activities. Sports massage can significantly help prevent injury. Post-activity sports massage can maximize muscle recovery with increased circulation and flexibility. In addition to physical benefits, sports massage can help athletes mentally prepare for their competition. Sports massage can be beneficial for athletes or weekend warriors at every level.
Myoskeletal Alignment Therapy
MAT relies heavily on strategic deep tissue and muscle activation techniques for posture correction and pain relief. MAT is a form of manual therapy therapy that uses scientific evidence about the body and brain to inform the practitioner's approach to musculoskeletal problems. As a modality steeped in science, MAT continues to evolve along with the latest research on pain.
Frequently Asked Questions
Your massage will be relaxing and comfortable. While there may be some pressure as we work on your problem areas, we're always conscious not to be too intense. We'll apply the appropriate pressure to bring you results. If you feel your massage is too painful, please let us know so we can make adjustments.
How long will my massage last?
We're proud to offer a few options for whatever fits your needs and schedule. Currently, we offer 30-, 60-, and 90-minute massages.
How often should I get a massage?
This is entirely up to you. We have some patients in pain who visit us weekly to combat an injury with massage and other modalities. Others visit us monthly or as needed. If you're interested in visiting us regularly, ask about our monthly memberships at a discounted rate!

Massage Therapy in Noblesville IN | (317) 776-1061