Massage Therapists
Kathy Carrigg, MT

Board Certified Massage Therapist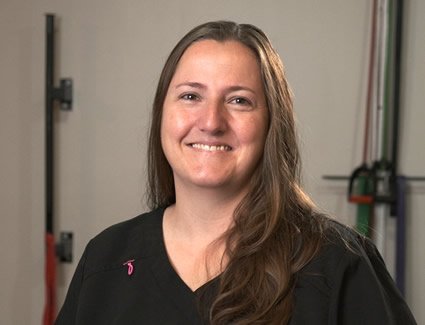 Kathy is a certified massage therapist, a wife and a mother of four very busy teenagers and young adults. Kathy graduated from Indiana Therapeutic Massage School in Indianapolis and certified with the state in 2013.
Kathy has been a part of Dr. Beaber's rehab and chiropractic team at Midwest Sport and Spine since her certification. Working full time as a therapist, primarily in table and chair massage, Kathy has a penchant for deep tissue massage and trigger point release, but can adjust pressure and technique to tailor each session to the individual client's needs and goals.
Her intention is to work with each client to identify, release, and correct any patterns of tension or areas of significant tightness so they can begin to experience an increase in range of motion, a release in any restriction of the spine or skeletal system, and a general relief from any pain or tension in the body overall.

Jesse Moore, LAT, LMT

Licensed Massage Therapist
Certified Athletic Trainer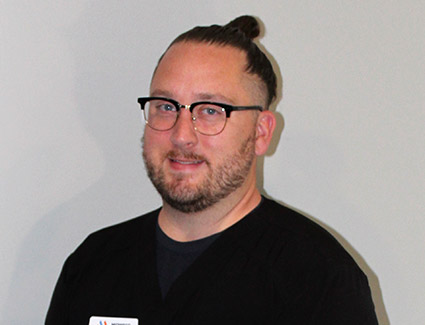 As a Licensed and Certified Athletic Trainer and Licensed Massage Therapist, Jesse helps athletes of all levels be at their best. He got on the path to becoming an athletic trainer when his AT in high school introduced him to sports medicine.
That's when I developed a passion for sports and keeping athletes in the game.
Education & Continuing Education
Jesse earned a Bachelor of Science in Athletic Training with a Massage Therapy Minor from Indiana State University. He graduated in 2013. To stay abreast of the latest in the field, Jesse continuously takes courses and reads the most up-to-date research.
One of the most rewarding aspects of Jesse's job is seeing patients set goals and helping them achieve those goals. Jesse also provided manual soft tissue bodywork for Indy Fuel's players, coaches and staff as their Team Massage Therapist.
Outside of the Practice
In his spare time, Jesse enjoys reading, golfing, and spending time with friends and family. He and his wife Jessica have a dog named Napoleon.
Schedule an Appointment
Contact us today to book an appointment with one of our massage therapists!
CONTACT US »

Massage Therapist at Midwest Sport and Spine | (317) 776-1061