Sports Chiropractic at Midwest Sport and Spine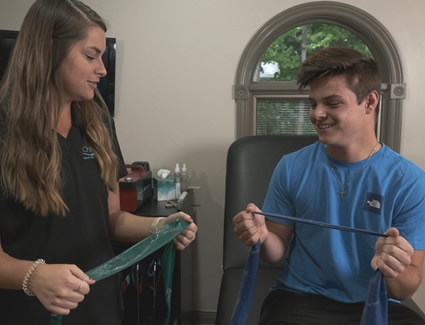 The goal at Midwest Sport and Spine is to give both athletes and non-athletes the best therapy experience possible with an emphasis on educating you on how to prevent and control pain. The techniques we use are evidence-based and follow the most recent medical guidelines and treatment plans.
Dr. Abraham Beaber is a Certified Chiropractic Sports Physician CCSP©, making Midwest Sport and Spine one of only a few progressive sports therapy centers in Indiana with a doctor to hold this designation. He also is a Diplomate of the American Chiropractic Board of Sports Physicians (DACBSP®). His mission is to keep you doing what you love by combining treatment with education designed to teach you how to take care of yourself and optimize your performance.
Increase Your Performance
Our sports therapy program is designed to not only treat the joints themselves but the musculature that controls them.
If you want to optimize your body and improve athletic performance, we can make that happen for you through our sports therapy program. Our sports therapy team understands how proper nutrition, exercise, stretching, posture and a custom chiropractic program can prevent injuries, get you through injuries and make you a better athlete.
Sports Therapy Care Plans We Offer
Designed to identify injury indicators and address problems before they lead to an injury, we can also identify areas of improvement for your sports specific athletic performance.
Golf
Tennis
Basketball
Baseball
Football
Hockey
Lacrosse
Soccer
Track & Field
Gymnastics
Cheer
Cycling
Running
Swimming
Triathlons
Marathons
Power Walkers
and More!
Frequently Asked Questions
If I'm injured, can I receive care?
Yes, we frequently see athletes and non-athletes alike seeking care because of an injury. Chiropractic care won't make your injury worse-in fact, it's designed to restore your body's innate ability to heal itself. Before you have an adjustment, we'll do a proper health screening to make sure it's the best option for you. Depending on the extent of your injury, we have many therapies to control pain and swelling until your body is ready for chiropractic care.
How many visits will I need until I feel better?
This depends on your unique situation and treatment goals. For some people, they feel better after just a couple of visits to our practice. Others who may be dealing with a more chronic or serious injury may not notice results for several weeks or months. Regardless, we'll always be up front with you about when you can expect to see results. We'll also constantly reevaluate your care to make sure you're progressing, and make tweaks along the way if need be. At the end of the day, we'll do our best to get you feeling back to yours!
Can chiropractic care help me get better at my sport?
Yes, it can. Chiropractic can certainly help to prepare your body for peak performance as well as shed light on areas that may be holding an athlete back. A combination of chiropractic care and sports specific therapy can improve performance and help give the athletes under our care a competitive edge.
Chiropractic isn't just for healing injuries and preventing new ones from occurring-it's about making sure your body is functioning to the best of your ability. When that is true, athletes can run better, jump higher and thrive during their athletic performances.
No, your visits shouldn't be painful at all. In fact, most patients find visits to our practice relaxing and entirely comfortable. If you're ever in pain or if something hurts, please let us know. We can modify your treatment to ensure your comfort and drive results.
Should I see a chiropractor or a different medical specialist?
Our practice is filled with medical professionals from various backgrounds whose main goal is to get you better-period. If we evaluate your needs and decide a specialist may be a better fit for you, we'll happily refer you out. We'll never perform care for someone we don't think can be helped by our areas of expertise.
Will I need to continue care forever?
Continuing care with us after you're feeling better is entirely up to you. Many athletes we see choose to continue visiting us with some regularity to help prevent common injuries from recurring, or simply because they love how they feel and perform while under maintenance chiropractic care.
Can I continue to play my sport while under chiropractic care?
Absolutely. If you're healthy enough to play your sport, you can continue to play. If you're injured, it may be best to wait until you are healed. Your focused chiropractic care plan will work to get you back into the game you love as quickly and effectively as possible, prevent future injuries and improve your overall athletic performance.
Will adjustments help me prevent injuries?
They definitely can. Because adjustments work to bring and keep your spine into proper alignment, things function better. When your body is working to the best of its ability, injuries are less likely to occur. We've found that a combination of chiropractic care AND physical therapy offers powerful prevention of future injuries.
Can I work out after being adjusted?
You can work out after being adjusted. We recommend waiting about an hour before you do any strenuous exercise to give your body time to adapt to the work we've just done in the practice.
Pain pills seem to help with my sports injury. Should I continue taking them?
Pain pills have they're place in medicine, but it's important to know that they won't fix the problem at its source and can actually slow down your body's healing response. At our practice, the goal is to correct the problem happening in your body so you won't need to rely on pain medication any longer.
Can you help with repetitive motion injuries?
Absolutely. Repetitive motion injuries are extremely common in athletes. We regularly see golfers with shoulder problems from the repetitive motion of swinging, as well as baseball players and beyond. If you're prone to repetitive motion injuries, we'd love to dive deep to uncover what's going on in your body and develop a plan to correct the issue at its source.
Can you help with herniated discs?
We have helped numerous patients with herniated discs, both athletes and non-athletes, using spinal decompression, cold laser therapy and physical therapy. We'll always do a proper health screening to make sure a herniated disc is the cause of your problems. We believe in diving deep to uncover the root cause of your problem so there isn't any 'guessing' involved.
What else besides adjustments can be done to help me?
In addition to chiropractic adjustments, our licensed athletic trainers and physical therapists may recommend certain stretches or exercises targeted at your problem area. Ice and heat therapy may also be incorporated. We also happily offer physical therapy sessions as well as massage.
We'll recommend a care plan for you designed to get you back to feeling your best as quickly as possible. Your care plan may include spinal decompression, cold laser therapy, Shockwave therapy, instrument assisted soft tissue mobilization (IASTM), cupping, AlterG® Anti-Gravity treadmill, spinal remodeling, Game Ready and NormaTec PULSE sports recovery.
Book Your Appointment
Contact our team today to schedule your first consultation for sports therapy Noblesville! Same-day visits are available. Insurance is accepted here.
CONTACT US »

Sports Chiropractor in Noblesville IN | (317) 776-1061