Physical Therapy
in Noblesville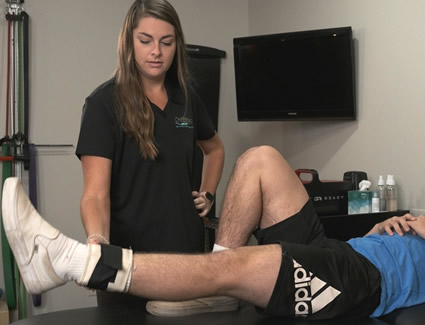 At Midwest Sport and Spine, we offer customized rehabilitation treatment plans with a hands-on physical therapy approach. Our physical therapist and athletic trainers will work with you to help reduce pain and achieve your goals. Your return to an active lifestyle is our primary concern.
Physical therapy is one of the best choices you can make for your health care. It is an effective and efficient way to manage and treat acute and chronic pain conditions. At our office, not only do we offer fast, effective pain relief, but we also utilize cutting-edge technology. We provide a range of services and treatment options to help reduce the pain and optimize your health above all.
Conditions Appropriate for Physical Therapy
Our physical therapist and certified athletic trainers are state licensed and board-certified. Because of their extensive training, our team of professionals is highly experienced to help address a variety of acute and chronic conditions. These conditions include:
Acute and chronic pain
Arthritis pain
Ankle and foot injuries
Back and neck pain
Dizziness and balance deficits
Disc and low back pain
Hand trauma and upper extremity injuries
Headaches
Hip and knee injuries
Leg injuries and knee pain
Limited range of motion (ROM)
Lymphedema
Muscular dystrophy
Muscle strains and sprains
Orthopedic injuries
Osteoporosis
Overuse injuries
Personal and auto injuries
Pre- and post-surgical conditions
Repetitive stress injuries
Shoulder and elbow injuries
Sports performance injuries
Temporomandibular joint dysfunction (TMJ or TMD)
Vertigo
Work-related injury
Physical Rehabilitation
Dr. Abraham Beaber is a Certified Chiropractic Sports Physician CCSP® who is very proud of his sports therapy and physical rehab teams at Midwest Sport and Spine. Restoring your strength, flexibility and function is their mission. This is a very effective treatment for many spine problems and a real compliment to our chiropractic care.
Our physical rehab team will evaluate and develop custom treatment plans to help prevent injury, stop pain and optimize your athletic performance.
Sports Therapy
Recovering from an injury can be a real challenge without some form of active care or sports therapy. Overlooking the importance of improved range of motion, muscle strengthening, posture and correct spinal curvature can result in a relapse. This can cause your original health issues to return time and again. An athlete needs their body optimized to perform. You practice hard to be the best, and we can be a tremendous asset in helping take your game to the next level.
Therapeutic/Rehabilitative Exercise
Spinal segments in your neck, lower back, rib cage and pelvis are stretched and pulled and pushed into proper alignment by gently forcing the skeletal, muscular and nervous systems away from their incorrect positions. Over time and with gentle amounts of pressure, therapeutic/rehabilitative exercise can help restore proper alignment.
Physical Rehab
Rebuilding proper joint function of the spine and extremities while strengthening the supporting muscles and soft tissues is an important part in the healing of many sports- related injuries. Our physical rehab team will customize a program to aid in your treatment plan.
Mechanical Traction
Proper posture and correct spinal curvature play a crucial role in your overall health. The curves in your spine act as shock absorbers, levers and resistance to gravity. They also reduce forces acting on the spinal cord and nerve tissues. Various types of traction are used in our office to restore proper spinal curvature. The type of traction (spinal remodeling) prescribed will be customized based on your personal condition and situation.
Electric Muscle Stimulation (EMS)
Microcurrent electrical muscle stimulation helps reduce muscle spasms while promoting healing and reducing pain.
Heat/Cold Therapy
Depending on the age of your injury, we will use heat and cold therapy to help facilitate the healing process. Heat therapy helps to bring fresh oxygenated blood to help facilitate healing and cold therapy helps to reduce swelling and pain in a newer injury.
Myofascial Release
At Midwest Sport and Spine, our chiropractors may use myofascial release techniques to help break up musculature adhesion and help facilitate the healing process. Myofascial release is a safe and very effective hands-on technique that involves applying gentle sustained pressure into the myofascial connective tissue restrictions to eliminate pain and restore motion.
Massage Therapy
Massage may be prescribed as part of your healing process. Kathy, our massage therapist, is the best in Noblesville. She will make you feel comfortable, relaxed and have you feeling better in no time.

Frequently Asked Questions
Do I need a doctor's referral for physical therapy?
It depends on your insurance, but most insurance plans allow direct access without a doctor's referral.
How many visits will I need?
The number of visits recommended will be based on your specific, unique needs. For some patients, visiting us weekly is ideal. For others, visiting us until they feel better is what's best for them. We'll always have your best interest at heart when we develop your care plan with you.
Will my appointments be painful?
No. Your appointments should not be painful. You may have some soreness after doing stretching or exercises as your problem area(s) strengthen. If you're ever in pain or feel that a stretch or exercise is painful, let us know right away as we have many ways to modify your care to make you comfortable and still get results.
Can I have chiropractic care in the same visit?
Yes! We have many patients who visit us for both physical therapy session and chiropractic adjustments. We'll let you know if we think you can benefit from dual care.
Our team of highly trained professionals is experienced at treating acute and chronic pain conditions. Our team will listen to our patients' needs firstly. Secondly, we will work with you to set attainable goals. Finally, our team will create a therapy program customized around your specific pain or injury to help improve your health. However, our focus doesn't stop there! Our team will work with you on progressing throughout your treatment plan while helping to reduce the pain and achieve your goals.
Dr. Beaber and Dr. Kebabjian are leading experts in the care of nerves, muscles, bones and connective tissues that make up almost 60% of your body. Every one of your joints is part of the musculoskeletal system. Having it functioning optimally is crucial for your overall good health. Contact Midwest Sport and Spine today to schedule your appointment for physical therapy Noblesville!
Contact Midwest Sport and Spine
Are you finally ready to reduce your pain levels and improve your mobility with physical therapy Noblesville? Contact our team now! We are here to help you get back to living a pain-free and healthy lifestyle.
CONTACT US »

Physical Therapy in Noblesville IN | (317) 776-1061