Chiropractic Care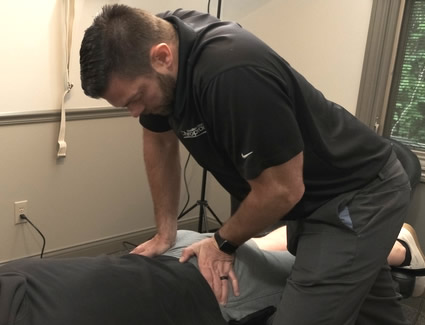 Chiropractic care covers more than just the relief of back and neck pain. Our primary focus at Midwest Sport and Spine is to maintain the health and functionality of the spine and nervous system.
What a Chiropractor Does
Doctors of Chiropractic – often referred to as chiropractors or chiropractic physicians – practice a hands-on and drug-free approach to health care. This includes patient evaluation, reports of findings and recommended treatment programs. Because chiropractors have a broad scope of diagnostic skills, they are also trained to recommend therapeutic massage and rehabilitative exercise. Chiropractors can also provide patients with nutritional and dietary counseling as needed.
Why Your Spine Matters
The spine consists of 24 vertebrae that serve to support the musculoskeletal system and protect the nervous system. The nervous system controls all aspects of the body. If the spine is not in proper alignment, it can have a negative impact on the nervous system, create multiple health issues and severely decrease mobility. If not properly aligned, the spine can also cause a great deal of pain.
Chiropractic BioPhysics (CBP)
We're proud to offer one of the most advanced correct chiropractic techniques available, known as Chiropractic BioPhysics (CBP). With CBP, we take an in depth look at your spine to provide rehab, postural correction and of course, get you out of pain while improving function and neurophysiology.
CBP is long hailed as one of the most researched and results-oriented techniques available, and is designed for patients of all walks of life to benefit from. Best of all, this therapy allows us to tailor care to your needs, combining adjustments, focused exercises, and specific stretching, among other things, to help restore your own ability to heal.
The Chiropractic Adjustment
The purpose of an adjustment is to restore joint mobility by manually applying gentle and controlled pressure into joints that have become restricted in their movement. Subluxations are misalignments on the vertebrae that put pressure on the nervous system and limit normal spinal motion and function.
Our diversified team of health care professionals will provide a complete full-body evaluation to ensure our patients are receiving the highest quality of comprehensive health care available.
Frequently Asked Questions
For most patients, chiropractic adjustments are painless. Some patients who are new to chiropractic treatments may involuntarily stiffen or resist the adjustment and feel a small amount of discomfort until they are able to relax during treatment. In addition, mild discomfort may be felt if the patient has had a recent trauma, such as whiplash, due to inflammation. However, many patients report a feeling of relief, calmness, and a sense of well being after the adjustment; others feel improved mobility.
Once I start going to a chiropractor, do I need to keep going?
Repeat visits are often necessary
because our treatment is hands-on and typically requires a cumulative effect. When working with a physical condition, repeat treatments are necessary to train the body just as repeat exercise is necessary to train for strength.
Can a person be too young or too old for chiropractic care?
No, there are no age limits on chiropractic care.
When should I see a chiropractor and when should I see my MD?
It depends on the approach you would like to take. We recommend seeing a chiropractor before you make any decision about surgery. We offer a more holistic approach to care and work hard to give you a pain-free life without surgery and hard medications.
Yes, we accept most insurance plans.
What kinds of techniques do you use?
Our practitioners are well-versed in a variety of chiropractic techniques. These include manual and instrument-based methods, including Diversified, Thompson Drop, Activator® and Chiropractic BioPhysics®.
What types of conditions respond well to chiropractic?
Some of the most common we see include
Plantar fasciitis
Patellar femoral impingement
Shoulder issues
Headaches
Learn More Today
Find out about the benefits of chiropractic. Contact Midwest Sport and Spine now!
CONTACT US »

Chiropractic Care | (317) 776-1061