Athletic Trainers
Alexis Cleveland, LAT, ATC

Head Athletic Trainer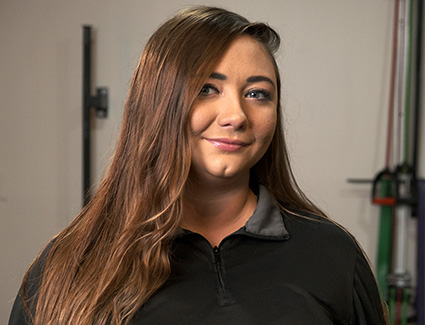 Alexis' love for sports and getting athletes back in the game were the driving forces behind her pursuing a career in athletic training. She is passionate about caring for others and wanting to help people be the best version of themselves.
I love seeing the smile on people's faces when they finally achieve their goals!"
Education & Certifications
The Valparaiso, Indiana native completed her undergraduate degree at the University of Indianapolis in May of 2018. Following graduation, she worked as a Certified Athletic Trainer in Dayton, Ohio.
Alexis also has the following credentials:
Licensed Athletic Trainer (LAT)
Certified Athletic Trainer (CAT)
Certified in BLS & CPR
Outside of the Practice
When Alexis is not in the clinic or out in the field, she enjoys her time riding dirt bikes with her family or attending motocross races. She also enjoys spending time with her beagle Baxter and cheering on the Indianapolis Colts.

Jessica Wall, LAT, ATC

Rehab Manager/Athletic Trainer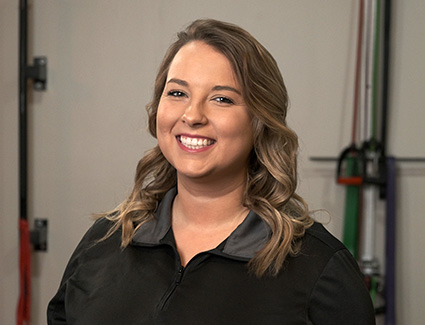 Jessica was inspired to become an athletic trainer after she tore her ACL in high school. She had three knee surgeries and each time her high school AT did her rehab. In her role at Midwest Sport and Spine, Jessica finds it fulfilling to see patients get back to the things they love.
Education and Certification
Jessica joined Midwest Sport and Spine in September of 2019. She graduated with a Bachelor of Science in Athletic Training from Western Carolina University and obtained her MBA with a certification in Health Care Management from East Carolina University.
Jessica is a national board-certified athletic trainer and holds an athletic training license in Indiana as well as North Carolina. Her goal is to provide personalized care to each patient which allows them to live their best life.
She has taken professional development courses in mental health and first aid. Jessica also is BLS and CPR certified.
Outside of the Practice
When she's not working, Jessica enjoys hanging out with her husband and two dogs, Caroline and Brooklyn. She and her husband are awaiting the arrival of their first child, a baby boy.

Rosalie Fidanze, LAT, ATC

Licensed Athletic Trainer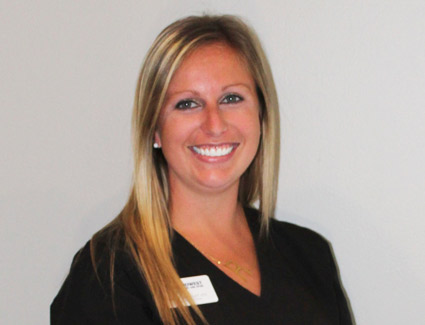 Rosalie was inspired to become an athletic trainer to help people return to the activities they love and enjoy. Growing up, she played many sports and was extremely active just as she is today–she was even a swimmer in college!
Whatever your goal, she hopes to help patients of all walks of life achieve exactly that.
Rosalie received her Bachelor's Degree from Butler University and went on to obtain a Master's in Athletic Training from the University of Indianapolis. She also holds a certification in Level 1 Dry Needling.
Every day, I get to watch my patients progress throughout their care plan. I love seeing how far they come from their first visit with me to being able to return to their favorite activities without having to deal with pain.
Outside of the Practice
When she isn't helping patients heal in the practice, Rosalie loves to spend time outdoors and enjoys activities like swimming, traveling and attending concerts. Learn more about her when you visit us for your next appointment. She looks forward to welcoming you into our practice.

Jamal Armoush, LAT, ATC

Licensed Athletic Trainer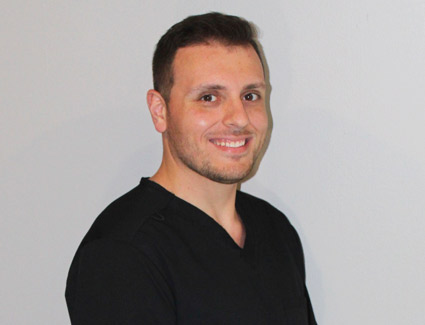 Jamal joins Midwest Sport and Spine with a passion for helping patients heal and get back to living the life they love free from pain and injury. He holds a Bachelor's Degree in Exercise Science which he received from Indiana State University, and then went on to further his education with a Master's in Athletic Training at the University of Indianapolis, completing his studies in 2021.
What I love most about working in the practice is getting to know my patients personally and helping them reach their goals in health and life.
Outside of the Practice
When he isn't in the practice, Jamal enjoys trying different and new restaurants all around Noblesville–in fact, if you have a favorite pizza restaurant, make sure to let him know at your next appointment–he loves recommendations. Jamal also loves spending time with his dog, Charles "Charlie" Barkley, and visiting the many local parks the city has to offer.

Jesse Moore, LAT, LMT

Licensed Athletic Trainer
Certified Athletic Trainer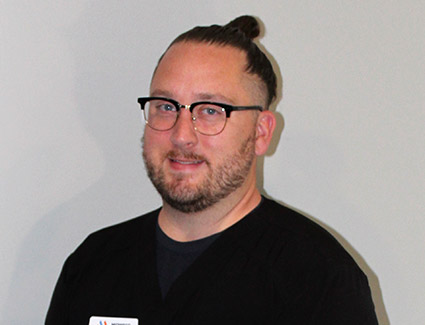 As a Licensed and Certified Athletic Trainer and Licensed Massage Therapist, Jesse helps athletes of all levels be at their best. He got on the path to becoming an athletic trainer when his AT in high school introduced him to sports medicine.
That's when I developed a passion for sports and keeping athletes in the game.
Education & Continuing Education
Jesse earned a Bachelor of Science in Athletic Training with a Massage Therapy Minor from Indiana State University. He graduated in 2013. To stay abreast of the latest in the field, Jesse continuously takes courses and reads the most up-to-date research.
One of the most rewarding aspects of Jesse's job is seeing patients set goals and helping them achieve those goals. Jesse also provides manual soft tissue bodywork for Indy Fuel's players, coaches and staff as their Team Massage Therapist.
Outside of the Practice
In his spare time, Jesse enjoys reading, golfing, and spending time with friends and family. He and his wife Jessica have a dog named Napoleon.


Schedule an Appointment
Contact us today to book an appointment with one of our athletic trainers!
CONTACT US »

Athletic Trainers at Midwest Sport and Spine | (317) 776-1061