Athletic Trainers
Jessica Wall, LAT, ATC

Rehab Manager/Athletic Trainer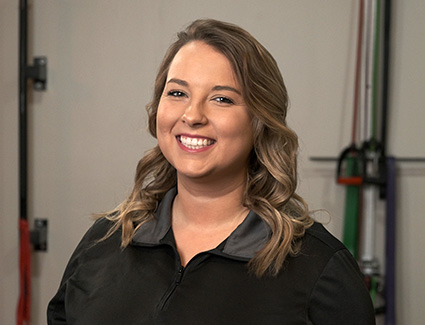 Jessica was inspired to become an athletic trainer after she tore her ACL in high school. She had three knee surgeries and each time her high school AT did her rehab. In her role at Midwest Sport and Spine, Jessica finds it fulfilling to see patients get back to the things they love.
Education and Certification
Jessica joined Midwest Sport and Spine in September of 2019. She graduated with a Bachelor of Science in Athletic Training from Western Carolina University and obtained her MBA with a certification in Health Care Management from East Carolina University.
Jessica is a national board-certified athletic trainer and holds an athletic training license in Indiana as well as North Carolina. Her goal is to provide personalized care to each patient which allows them to live their best life.
She has taken professional development courses in mental health and first aid. Jessica also is BLS and CPR certified.
Outside of the Practice
When she's not working, Jessica enjoys hanging out with her husband and two dogs, Caroline and Brooklyn. She and her husband are awaiting the arrival of their first child, a baby boy.

Jesse Moore, LAT, LMT

Licensed Athletic Trainer
Certified Athletic Trainer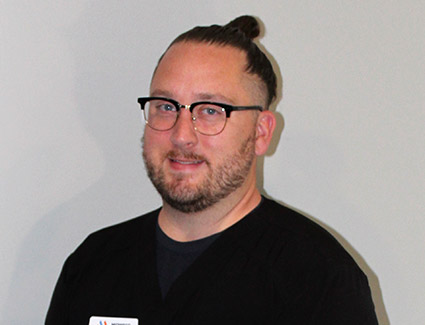 As a Licensed and Certified Athletic Trainer and Licensed Massage Therapist, Jesse helps athletes of all levels be at their best. He got on the path to becoming an athletic trainer when his AT in high school introduced him to sports medicine.
That's when I developed a passion for sports and keeping athletes in the game.
Education & Continuing Education
Jesse earned a Bachelor of Science in Athletic Training with a Massage Therapy Minor from Indiana State University. He graduated in 2013. To stay abreast of the latest in the field, Jesse continuously takes courses and reads the most up-to-date research.
One of the most rewarding aspects of Jesse's job is seeing patients set goals and helping them achieve those goals. Jesse also provides manual soft tissue bodywork for Indy Fuel's players, coaches and staff as their Team Massage Therapist.
Outside of the Practice
In his spare time, Jesse enjoys reading, golfing, and spending time with friends and family. He and his wife Jessica have a dog named Napoleon.


Haley Lehman, LAT, MAT

Athletic Trainer
For Haley, the most rewarding aspect of her job is to help people improve and be pain free throughout their daily life.
To prepare for her career, Haley earned a Bachelor's Degree in Exercise Science and a Master's in Athletic Training from the University of Indianapolis.
Outside of the Practice
In her spare time, Haley enjoys working out, traveling, reading, going to the beach, and trying new foods.
Schedule an Appointment
Contact us today to book an appointment with one of our athletic trainers!
CONTACT US »

Athletic Trainers at Midwest Sport and Spine | (317) 776-1061