AlterG® Anti-Gravity Treadmill™
at Midwest Sport and Spine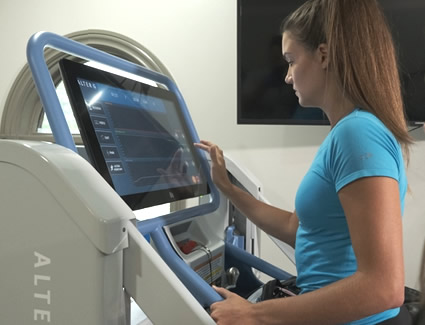 As the new standard of care for physical rehabilitation, the AlterG Anti-Gravity Treadmill is the only unweighting device that uses air pressure to precisely reduce impact and provide support for rehab patients and athletes at all levels.
The AlterG Anti-Gravity Treadmill integrates patented NASA Differential Air Pressure (DAP) technology, a precise air calibration system and real-time information to change what's possible in rehab and training.
Recover Your Health, Quickly
AlterG allows patients a way of non-painful, controlled weight bearing early in the recovery period. Studies show that an earlier return to activity prevents atrophy of supporting muscles, decreases swelling and improves outcomes. Above all, the AlterG helps patients recover faster and return to all their daily activities.
Frequently Asked Questions
What are the benefits of AlterG and air pressure?
Physical therapists
can precisely comply with weight-bearing restrictions. The Anti-Gravity Treadmill allows for 1% adjustments from 100% to 20% body weight for instance. Because it is air pressure, patients with infection risk and contraindications to water therapy can start rehab sooner because water is not used.
The Anti-Gravity Treadmill helps physical therapists effectively improve their patients' balance, control and strength with stationary exercise in a controlled and protected setting. In addition, range of motion, balance, function and fitness are also restored. No other unweighting technology offers as much freedom, control and versatility.
Who can benefit from physical therapy using the AlterG?
AlterG has clinical evidence demonstrating effectiveness of the Anti-Gravity Treadmill during rehabilitation from a variety of injuries and diagnoses. For example, the following types of patients would benefit from the use of the anti-gravity treadmill:
Patients after surgery who have weight-bearing restrictions
Neurological and stroke patients
Lower extremity orthopedic patients
Athletes who want to train while protecting or recovering from an injury
Bariatric individuals
If you've forgotten what it's like to walk or run without pain or the fear of falling, an AlterG Anti-Gravity Treadmill system will help you experience a level of freedom you may not have thought possible. Whether you want to get back to life as quickly as possible after orthopedic injury or surgery, or you want to gain strength and endurance while managing a neurological condition, chronic disease or obesity – AlterG can give you new power to achieve your goals!

AlterG® Anti-Gravity Treadmill™ in Noblesville IN | (317) 776-1061